Welcome to the American Shea Butter Institute e-learning Program, our largest distance learning initiative comprised of online courses that can be accessed on demand. 
The ASBI e-learning Program is designed primarily for Shea Butter co-operatives, manufacturers, product developers, retailers, wholesalers, brokers, consumers and enthusiasts who seek to establish themselves as professionals throughout the shea value chain and international shea community.
ASBI Certifications work well to develop the human capital for social enterprises, NGOs, governmental agencies, importers/exporters and various other stake holders interested or currently working with learning initiatives throughout Africa and the World.
We currently offer comprehensive, interactive courses in the following areas. american shea butter intsitute
Certified Shea Technician Course
Additional Shea Tech Specialist Designations (coming soon online)
Skin Care Specialist
Hair Care Specialist
Shea Mixing Specialist
Product Label Specialist
Import/Export Specialist
Upon Completion of the Shea Technician course and all additional designations above, a Master Shea Technician certification is available for individuals involved in education or related fields of interest.
New courses will be periodically added to enrich and expand our course offerings.  Contact us at elearning@sheainstitute.com with any questions, requests and feedback.
Certificate Requirements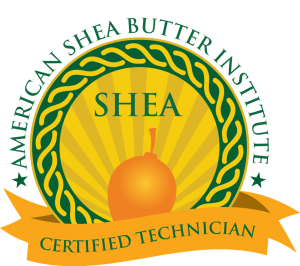 A certificate is awarded to those who complete the syllabus course work and display a working understanding of shea based knowledge through selected course tests.
Common questions
What's the value of a certificate?
A certificate demonstrates to employers, business partners, clients, and customers that you have acquired a certain body of knowledge in a field. The courses for each certificate have been chosen to give you the opportunity to gain a currently relevant background for a field or profession. And the educational quality of the American Shea Butter Institute is widely recognized by industry professionals.
How do I earn a certificate?
The certificate is not a program. There is no admissions process, although individual courses may have prerequisites. You take your designated courses for credit from among the list for each certificate and earn a grade of B or better for any course applied to the certificate. Upon completion of an online course, within the designated period, you will have access to your awarded Certificate via download from Course platform.   The award bears the signature of the Executive Director of American Shea Butter Institute and the director of the certification program whose field relates to the certificate.
Why aren't all Certificate courses offered online?
Instructors decide if they wish to use the online format. Some prefer to meet face-to-face, so not every course applicable to a certificate has an online option.
What will I receive when I finish the certificate?
Membership in the International Shea Tech Association.
Access to the ASBI Online Shea Tech Document and Video Library.
Discount to ASBI and ISBC related courses, and services.
Certified Master Shea Technicians available to answer your questions via email.
Contact us with questions
We are happy to answer any questions you have about our Online Courses. E-mail us at elearning@sheainstitute.com.
HARDWARE/SOFTWARE REQUIREMENTS
Computers
Any computer running Windows, Mac OS, or Unix machines are supported.

Internet Connection
Your computer should be configured to access the Internet. A high speed internet connection may be required to view some of the large multimedia files.

Browsers
Internet Explorer 5.5 or higher is recommended. However, Internet Explorer 4.0 or Netscape 4.0 or newer versions will also work. JavaScript and cookies must be enabled.

Plugins
Some of the multimedia resources in this course require Apple Quicktime, RealMedia, or a Flash player. You will be prompted to download the appropriate plugin when necessary. No plugins are required for general use of the ASBI website, and you may skip the multimedia presentation(s) within the course if you choose.