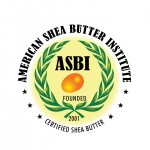 The American Shea Butter Institute is a bio-tech institute dedicated to the improvement of human health and wellbeing through basic and applied scientific research. ASBI has become internationally recognized as a leader in the innovation and advancement of Shea Butter ingredients and/or derivatives of its ingredients in the development of new commercial uses and products. about us
The Institute provides consumer and industry education on Shea Butter; establishes voluntary standards on the quality of Shea Butter entering the USA and promotes the benefits of Shea Butter in various US industries. ASBI's full range of services are designed to stimulate the global shea butter value chain, drive discoveries that raise the awareness of Shea Butter as a commodity and enrich multilateral trading opportunities.
BACKGROUND
In the late 90's, failure to get consistent healing results from various imported Shea Butters, lead to the observation that all Shea Butter were not equally effectively. The answer to this problem became clear, after a 7-country tour of West Africa's Shea region.
On the tour, Dr. Hunter learned that there were many variations in the traditional method for processing Shea Butter. Significant variations occurred from village to village, from country to country and region to region. Today we know that the absence of a strict and uniform procedure for preparation of Shea Butter in Africa is one among several factors contributing to the inequality found in various preparations of 100% African Shea Butter. We also understand that there are many post-production factors in the U.S. and Africa that significantly contributes to the profound disparities found in Shea Butter currently in the American market.
To that end, we made the commitment to develop criteria to normalize Shea Butter of varying quality or composition. Through biochemical analysis we have developed criteria for a classification system that may be used to compare or differentiate one batch of shea butter from another. Using this system, a pound of grade A Shea Butter maybe equal 2 or 3 pounds of a lesser grade of Shea Butter. We believe the classification of various Shea Butter based on a set of strict guidelines is good for the industry. Most importantly, the classification of various shea butter is priceless for the consumer.
FACTORS THAT LED TO ORGANIZING THE AMERICAN SHEA BUTTER INSTITUTE
Early factors that lead to organizing The American Shea Butter Institute were:
1. Recognition of the extremely wide variations in the quality and potency of Shea Butter entering the United States.
2. Lack of governmental or industrial standards for quality and classification of Shea Butter.
3. Lack of reliable sources of information on Shea Butter.
In 2001, The Institute was organized to fill the existing void on Shea Butter standards and scientific data as well as to serve as the primary source for consumer and industrial Shea Butter information and education.
For more information about ASBI, contact us.
about us about us