PROTECT YOUR BRAND WITH ASBI CERTIFICATION OF SHEA PRODUCT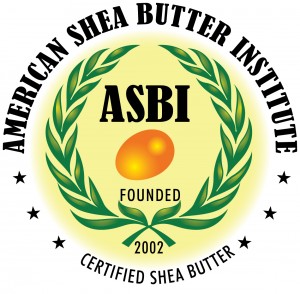 Today, more than ever, consumers are looking for a way to identify reliable, safe, high-quality, effective Shea Butter products. Now, there is a way
Gain marketing advantage by demonstrating the quality of your products using the ASBI Mark.
Assure consumer safety by using external expert contaminant testing.
Confirm international quality acceptance by verifying your manufacturing consistency and accuracy.
Certification with ASBI allows the use of the highly recognized and credible ASBI Certification Mark on your product. ASBI's certification service includes product testing and ongoing monitoring and use of the ASBI Mark.
The ASBI seal of certification can be seen on a variety of retail packages in the USA. ASBI's long history of developing and running third party certification programs along with our state-of-the-art analytical laboratories and highly skilled staff of chemists and microbiologists, means we have the knowledge and expertise to evaluate the composition of shea butter bio active ingredients, including but not limited to:
Vitamin A
Vitamin E
Cinnamic Acid
Triterpenes 
Test and certify your products with ASBI to:
Verify the identity and quantity of Shea Butter ingredients TO ENSURE THE BENEFITS declared on 21 reasons to use shea butter.
Ensure the product does not contain undesirable ingredients or unacceptable levels of contaminants.
Demonstrate conformance to currently recommended industry quality standards
LET THE CONSUMER KNOW YOUR PRODUCTS STAND OUT FROM THE REST!
Certified Premium Shea Butter
ASBI Certification is reserved for shea butter whose lab specifications meet or exceed the laboratory standards of "certified premium grade a shea butter.  ASBI Certified products are the only proven high quality Shea Butter products in the US, demonstrated by the laboratory tests and certification of The American Shea Butter Institute.
Discerning consumers are increasingly looking for the SEAL of the AMERICAN SHEA BUTTER INSTITUTE on retail packages as the signature for proven "laboratory tested and certified" quality shea products. Protect your Brand, look for the ASBI mark or get your shea butter tested before purchasing, don't leave your Brand to chance!